How to get your house winter ready in six steps
October 13, 2020 | Home & property

While we hopefully still have a few more weeks Manitoba fall before us, it's the perfect time to get yourself, and your house, winter-ready. Our friends at Highmark Construction & Renovation agree and put together the following list of things to do around your house before it starts to snow.
Step one: check heating & alarms
First things first, to get your house winter-ready, check to make sure your heating is working (as well as your safety devices).
Get a professional to inspect your furnace.
Sweep the chimney.
Check your carbon monoxide detectors and smoke alarms.
Step two: get your windows & doors winter-ready
Next up, thoroughly inspect your windows and doors for leaks. Sealing up leaks keeps the hot air in and the cold air out (and can save you some money too). Sometimes you can also save money by having older windows repaired, however, there may be cheaper ways to cut utility bills, such as some of the suggestions below.
To find and fix air leaks on your windows:
Give your windows a little shake. If they rattle, the frames are not secure, which means heat can leak out and rain can seep in. To fix this, Highmark Construction suggests putting some caulking and a few nails around the framing.
Look deep; if you can see the outside from around – not just through – the window, you've got gaps. Seal air leaks by caulking and weather stripping around the frames.
Inspect window panes for cracks.
Check the window locks. Make sure double-hung windows slide smoothly up and down. If not, run a knife around the frame and sash to loosen any dried paint. Tighten cranks on casement windows and check that top locks fully grab latches.
To fix house and garage door air leaks, add weather stripping.
Step three: check around the roof
It's time to get outside and get on the roof. Grab a ladder (and a spotter!).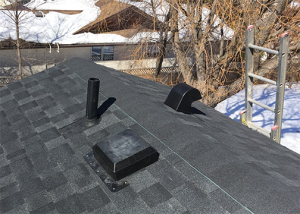 Clean out your gutters and make sure the water runs away from your house.
Inspect the roof for lost or damaged shingles and replace as needed.
Check to make sure there is a proper seal around vents and chimney areas.
Ensure your attic is sufficiently insulated (contact Highmark Construction for a review if there are areas in your home with the potential air infiltration or heat loss.)
Step four: yard & garage
Once you're back on the ground, it's time to clean up around the yard. In addition to raking up leaves, Highmark suggests you check the following.
Seal joints between your driveway and garage grade beam to make sure water can't sneak in underneath and cause your concrete to drop. To seal the joints, use a tube of Quickcrete self-levelling polyurethane concrete sealer. For larger joints, you may need to use a rope gasket first to avoid excessive loss of material when sealing cracks.
Turn off your outdoor faucets, detach exterior hoses and drain them. Make sure to blow out in-ground sprinkler lines.
Trim your bushes and trees away from your house and electrical wires.
Ensure exposed pipes are insulated in unheated areas, including in kitchen and bathroom cabinets, against exterior walls in garages, attics, crawl spaces or basements. (Add insulation to your attic, basement, crawl space or garage. This will raise the overall temperature in these places to stop frozen pipes.)
Bring the window AC unit inside.
Seal wood deck areas.
Get your shovels ready. (Once it snows, shovel snow piles in places where spring melt will run away from home.)
Seal all cracks around your home from rodents. Keep up leaves and other items around your home to stop it from attracting rodents.
If you need, get some sand to spread on your sidewalks and driveway during icy periods. If you can keep clear regularly, you can avoid needing to add sand. Try to avoid using salts as it damages concrete.
Step five: check your insurance coverage
Okay, we're adding this bit in. But if you haven't had your house insurance reviewed in a while, give your branch a call and ask for a free coverage review. Things change over the years, and we want to make sure you still have the insurance coverage you need.
Step six: meet Highmark Construction & Renovation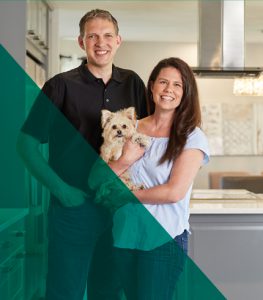 Highmark Construction & Renovation is a Winnipeg based company that specializes in new constructions and renovations. They work with both home and business owners to create spaces that work, so you have a place you love. If you're looking to build your dream home, or need help getting it ready for winter, get in touch with Highmark Construction.
Learn more and see some of their past projects at www.highmarkleveling.ca.