Winter driving in Manitoba: safety tips and maintenance tricks
January 8, 2021 | Cars & driving

It's winter here in Manitoba, and as you know, the cold weather and sloppy roads are here to stay for a few more months at least. While by this time you may be used to winter driving on Manitoba roads, we pulled together a few tips to help you get through the next few months safely.
Check weather conditions before heading out
While this may seem obvious, most of us have been home a lot more lately and it can be easy to forget to check what the road and weather conditions are before heading out for a drive.
Checking the weather can help you mentally prepare for what your drive is going to be like and avoid unneeded frustration.
Did it just snow? There could be snowploughs out, snow covering the road, or you might need to spend time cleaning off your vehicle. Was it sunny in the morning, but now the roads are icing up? You're likely going to need to be extra careful, drive a bit slower, and take extra time to get where you are going.
Knowing what sort of drive to expect can make winter driving much easier to handle.
Double-check your emergency kit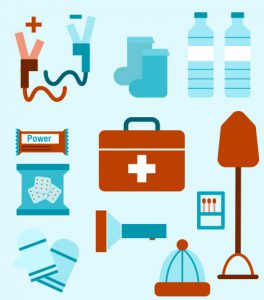 An emergency driving kit is a small collection of items that can help keep you and your passengers safe in case you get in an accident or drive into a ditch (it happens!). (If you don't have a kit already, you can buy a pre-made emergency kit or you can gather supplies to make your own.)
Every now and then, it's a good idea to check through it and top up any missing or low supplies. Here's what a good car emergency kit should have (although feel free to customize it to your needs).
Flashlight with a plastic flare attachment
A blanket
First-aid supplies
Waterproof matches
Candle
Warm socks, toque, and good mitts
A pair of boots
Reflective road cones
Snacks (like energy bars)
Water bottles
Refresh your jumper cable knowledge
One unfortunate downside of driving in the winter is that sometimes our car batteries die when it's really cold outside. It's never fun, but being prepared with a set of jumper cables and the knowledge and confidence on how to properly use them can help get you back on the road in no time.
Westwood Auto Tec has a helpful infographic showing all the steps.
Your car, salt, and Manitoba roads
Between melting snow, sand, and salt, winter driving in Manitoba leaves us with very dirty cars. And it gets worse as it gets warmer.
While you will probably want to wash your car to avoid getting dust and dirt on you (and it just looks nicer), it's also important to rinse the sand and salt off your car.
Salt helps make our roads less slippery and driving safer, but as mentioned in this article by Accu Weather, it can also cause damage to our cars – especially underneath where it's hard to see.
In addition to cleaning the salt off your car, the City of Winnipeg suggests keeping back from the sand / salt trucks when they are out covering the roads.
Drive safe!
We hope these few tips help keep you keep safe while winter driving around Manitoba.